http://www.rentoncarrepair.com/wp-content/uploads/2016/11/MW-logo.png
0
0
Service Department
http://www.rentoncarrepair.com/wp-content/uploads/2016/11/MW-logo.png
Service Department
2019-09-21 00:37:51
2019-09-21 02:07:25
J005423- VW Tiguan -Hart
Information
Air Suspension Refresh – Evo X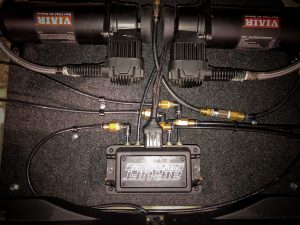 Last night we finished a air suspension refresh for this customer's previous air ride install. Although we did not do the initial install, we fixed many problems with the old install. We resealed and trimmed all the leaky air lines and fixtures. Then we cleaned up the routing. We also made a custom base for the components to mount to. We finished that off with some fresh carpet. Previously they were screwed directly to the vehicle's spare tire well causing an excessive amount of vibration and noise. We also stripped the spray painted tank to bare metal, prepped and powder coated it in house with Super Durable Wet White powder. To finish it off we rotated the compressors so they would not come in contact with the false floor that was previously made. Over all the noise reduction was at a minimum 20db less. We believe it turned out looking much cleaner, safer and functional than it was before.
/
by Meister Werks
http://www.rentoncarrepair.com/wp-content/uploads/2019/08/Evo-Redo-5.jpg
900
1200
Meister Werks
http://www.rentoncarrepair.com/wp-content/uploads/2016/11/MW-logo.png
Meister Werks
2019-08-22 00:41:59
2019-08-22 01:08:45
Air Suspension Refresh
Information
VW 2.0T Diverter Valve 06H145710 Ver C vs D
Recently we had a Mk7 GTI with a IS38 turbo swap and a 06H145710 diverter valve in the shop. The car had a brand new turbo from a Golf R and a Unitronic Stage 2+ tune on it.
Under hard acceleration, his car was loosing boost pressure and the waste gate needed to be adjusted. I did a visual inspection on the swap and everything looked to be in order. However I noticed that the diverter valve was a Ver C, Part No.: 06H145710 C.
Most of you know that the old Ver. C had a rubber diaphragm and that the Ver D was the one to upgrade to. I removed the DV and found the updated Ver C., which had the piston and correct for this turbo and year vehicle.
I did a lot of research and found out that there are two Ver C DVs. The old Mk5 Ver with a rubber diaphragm, the new 06H145710 Ver C with a piston and the 06H145710 Ver D.
There was no info in our VW technical manuals. So I went online. Lot and lots of debates about which one is better.
The only thing I can see that is better is that the Ver. D has no o-rings and potentially could last longer and not wear out as fast. in conclusion, if i had to replace it, I'd buy a Ver D due to those facts. But I'm sure they will work the same and have no difference.
Here is a slide show video we made showing the differences.
/
by Meister Werks
http://www.rentoncarrepair.com/wp-content/uploads/2016/11/MW-logo.png
0
0
Meister Werks
http://www.rentoncarrepair.com/wp-content/uploads/2016/11/MW-logo.png
Meister Werks
2019-07-15 23:08:50
2019-07-16 01:06:00
vW 2.0T Diverter Valve 06H145710 Ver C vs D