Description
Custom Hub Centric Rings *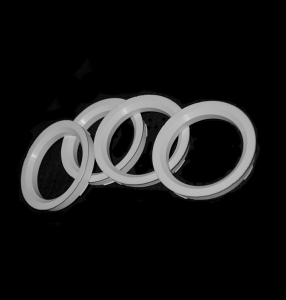 Are you looking for custom hub centric rings for your rare wheels? Can't find the exact size? Well look no further. Meister Werks can make you a custom set of rings.
First, we take the measurements you provide (wheel inner bore / vehicle hub size) and draw up CAD files of the exact sizes you need. Next, we print your custom hub centric rings on our state of the art, 3d resin printer at a resolution of .05mm. After printing, we wash the parts in our washing machine, removing all of the resin from your Custom Hub Centric Rings. We will then let them dry and post cure them in our curing machine. However, these will have durability of ABS plastic you are looking for.
These will look and feel just like a standard extruded rings you buy over the counter. For example, there will be no choppy stepped edges or low resolution rings here. In conclusion, these are guaranteed to fit your application.
Furthermore, If you are looking for wheel spacers or extended lug bolts, we carry a few for European vehicles here.
* Please allow 2-4 weeks for manufacturing and delivery.
Wheels that need Custom Hub Centric Rings
These custom hub centric rings are for JDM European and all wheels that you can't find. Wheels like:
Firstly, 2 Crave, 360 Forged, 51Fifty / 5150, 5Zigen, A2K, ABT Sportsline, AC Schnitzer, Ace Alloy, Ace Forged, ACK, ADR, and Advanti Racing.
Secondly, Adventus, Akita, Akuza, Alba, Alloy Technologies, ALT, American Eagle, American Force, American Racing, AMG, Amico, and ANDROS.
Thirdly, Anella, Antera, Anzio, Apex, APP, Arceo, Arelli, Armano, ASA, Asanti, Asuka, ATX, Avant Garde, Avarus, Avenue, AWC, and Axis.
Fourthly, AZA Forged, Azev, Azzur, B2 Boyz, Baccarat, Ballistic, Bassani, Bavaria, Bazo, BBS, Bentchi, Beyern, Binno, Black Ice, and Black Rhino.
Fiftly, Black Rock, Blades, Bluelabel, Bonetti, Borbet, Boss, Boyd-Coddington, Boze, Brabus, Branzach, Bravado, Brazen, Bremmer and Kraft.
Sixthly, Breyton, BSA, BT, Budnik, BZO, C Cubed, C Squared, Cabo, Car Mate, Carroll Shelby, Carroll Shelby, CEC, Centerline, and Chopper.
More Over, Ciao, Concept One, Compomotive, Coventry, Cragar, and Cray,
Other Wheels
Most Importantly, D Forged, Daat, Damani, Davin, Dayton, Dayton Wire, Dcenti, DCR, Decorsa, DeCorsa, Defy, Demoda, Detata, Devino, Diablo, and Diamo.
Diamo, Dick Cepek, Dip, DK, Dolce, Donz, Double-G, Drag, Drive, Dropstars, Dub, Dub, DuroStar, Dvinci, DVS, E Forged, and Eagle Alloys.
Echelon, Eco, Edge, Egoist, Elbrus, Elite, Enkei, Epic, Epsilon, Estrella, Everhart, EXE, F5 Racing, Factory Reproductions, and Famous Forged.
Ferracci, Ferretti, Focal, Focal, Foose, Ford Racing, ForgedMetal, Forgiato, Forte, Forza, Foxx, Fuel, Gazario, Gazario Forged, Genius, and Genx.
GFG, Gianelle, Gianna, Gino, Giovanna, Giovanna GG, Giovanna Racing, Gitano, Granite Alloy, GZC, Hamann, Hartge, Hayame, and HDE.
Helo, Hero, Hipnotic, Hotchkis, Hoyo, HRE, Huntington, Hurst, I Forged, ICCE, ICE, ICW Racing, ID, ILAN, Incubus, and Intro Wheels.
ION, ION Forged, ITP.
More Wheels
J2, Jesse James, K2 Racing, Kaotik, Karizzma, Katana, Kazera, KMC, Konig, Kosei, Kronix, Kruz, Kyowa Racing, LA Wire, and Lenso.
Lexani, Limited, Lorenzo, Lorinser, Lowenhart, LRG, Luff, Lumarai, Luxe, Luxor Wire, MAE, Maido, Mamba, Mandrus, and Maxxim.
MAYA, Mazzi, MC Motorsports, Mega, Menzari, Merceli, Method, MHT, Mickey Thompson, milanni, Milano, MIRO, Mizati, MKW, and Mob Empire.
Moda, Modello, Modular Concept, Mogul, MOMO, Monaco, Monet, Mono Leggera, Mossa, Motegi Racing, Mothers, Moto Metal, Motto, and Moven.
MOZ, MRR, MSR, MSW, NAD, NCwheels, Neeper, Niche, Nitro, NS Series, O E Concepts, O Z Racing, Oasis, OC Motorsport, and OEM.
Oettinger, Omega, Onyx, P Miller, Pacer, Panther, Paragon, Paragon Wire, Performance Replicas, Pilot Automotive, Pinnacle, Pinnacle and Racing.
Pit Bull, Platinum, Player, Player Wire, Polo, Power Wheels Pro, Prestige, Primax, Prime, Privat, Pro Comp, and Pulse.
Wheels:
R1 Racing, R2 Racing, Raceline, RacingHart, Raze, Razor, RDR, Rebel, Red Sport, Redbourne, Rennen, Rev, RH Evolution, Rial, and RIAX.
Roadster Wire, Rocket, Rota, Rotiform, Rozzi, RPM, RSL, Sacchi, Saint, Savini, Savini Forged, Scarlet, Sendel, Sevizia, Shift, and Sinister.
Sparko, Spinwheel, Sport Edition, Sport Muscle, Sport Technic, Sport Tuning, Sportec, Sportrux, Sporza, SR Racing, Stern, Strada, and Swift.
Symbolic, System Forged, Tansy, Team Dynamics, TechArt, Tenzo Racing, Tezzen, The Wheel Source, TIG, TIS, Toro, TRK, and TRMotorsport.
TSW, TTE, Tyfun, U2 Wheels, Ultra, Ultra Motorsports, Ultra Muscle, Urban Racing, USA Forged, USARIM, UWC, Variance, VCT, and Vellano.
Veloche, Velocity, Velox, Venti, Verde, Versante, Vertini, Victor, Viscera, Volante, Volt Racing, Vossen, Voxx, Weld Evo, Weld Racing, and Work.
Worx, X Power, X2O, XD Series, Xenex, XIX, XTC, XXL, XXR Wheels, ZE Forged, Zen, Zenetti, ZEO, ZH, Zinik, Zora, Zyoxx, and more.