Description
Warning Radiator Fan Decals 175 000 391 / 175 000 391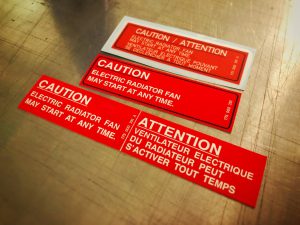 These warning radiator fan decals are printed on 3m vinyl with resin based epoxy inks. They will never fade, run or scratch. We guaranteed our decals to be color fast, for the life of the car.
Meister Werks Decals are digitally replicated to the exact OEM font, graphic and color specifications. For example, if you compare your decal and the brand new we make, you will not be able to tell the difference. Furthermore, we print your decal on 3m vinyl which is the highest quality vinyl on the market. Our thermal process prints lines very crisp and with high resolution. Also, see our other OEM decals we have posted on our website – located here.
In conclusion, if you have a question or need something you don't see, Email us. Please provide a square photo with measurements. Please take a front and center, square photo of the decal next and provide the exact WxH dimensions in mm or inches..
Meister Werks European & Import is located one block south from The Renton Landing in Renton, WA, across the street from The Boeing Store and on the westside of the Paccar / Kenworth plant.
*No refunds on items that you ordered incorrectly.
Radiator Fan Decals. Part No.: 175 000 391 / 175 000 391 A
Fits Early Mid & Late Mk1s & Some Mk2s
Early: 1975, 1976, 1977, 1978, 1979 & 1980 German Built Mk1s*
Mid: 1980, 1981, 1982, 1983 & 1984 – Westmoreland Build Mk1s*
Late: 1980, 1981, 1982, 1983, 1984, 1985, 1986, 1986, 1987 & 1988 German Built Mk1 & Mk2.*
*Some years may vary. See your vehicles fan warning label for the correct decal.