Description
Mk1 Seat Belt Decals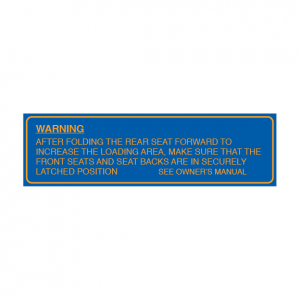 Are you restoring your Volkswagen and need to replace your Mk1 Seat Belt Decals?You found the right place and these decals are what you need.
Our decals are printed on 3m vinyl with resin based epoxy inks. They will never fade, run or scratch. These are guaranteed to be color fast for the life of the car.
 Meister Werks Decals for your door jambs are digitally replicated to the exact OEM font, graphic and color specifications. For example, if you compare your decal and the brand new we make, you will not be able to tell the difference.
Furthermore, we print your decal on 3m vinyl which is the highest quality vinyl on the market. Our thermal printing process make the lines crispy and very high resolution. Also, check out the otherOEM decals we have on our site located here. Got a question?
Email us and we can get back to you with any information you need.