Headlight Restoration – Mercedes E320 CDI – W211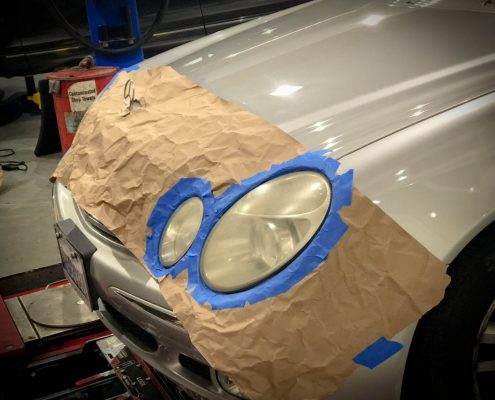 Last week we did a headlight restoration on this Mercedes E320 CDI W211. The headlights were in very poor shape and the light distribution was almost not existent. We are able to bring your headlights back to brand new using our proprietary methods that look like brand new and will not fade again.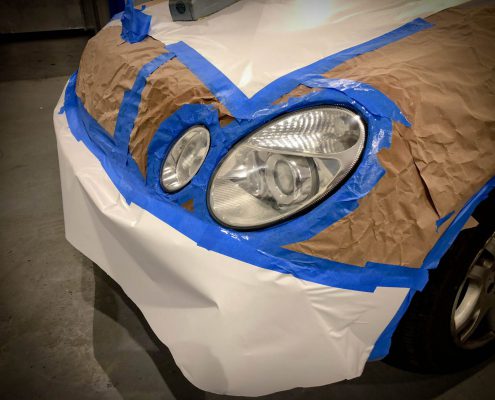 The reason headlights fade is the plastic or acrylic breaks down over time. The hardeners in the plastic will evaporate with heat and UV. This happens in hotter and sunnier climates faster than it does up here in the Seattle area. Road debris will also cause the headlights to become pitted and foggy. The only way to repair this is to replace the headlight housing himself, replace the lens (if possible) or do a headlight restoration to the vehicle. Unfortunately this Mercedes E320 does not have the capability of replacing the lenses.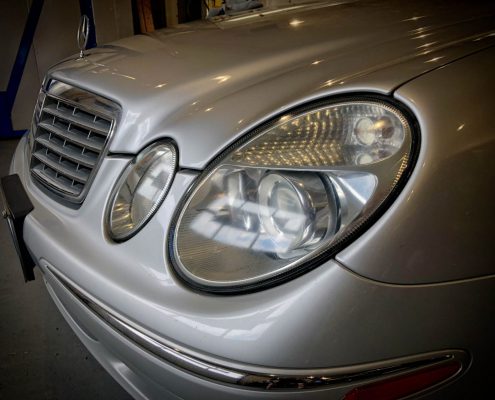 To replace these headlight is a in depth job. The labor time to remove the bumpers and replace the lights is over double than just refinishing both headlight lens. During this process we mask the entire front of the vehicle and cover the back half, insuring that there is no over spray on the vehicle.
Next we prep the lenses to insure a good and permanent adhesion. We remove any low spots on the lens and any impurities prior to the headlight restoration.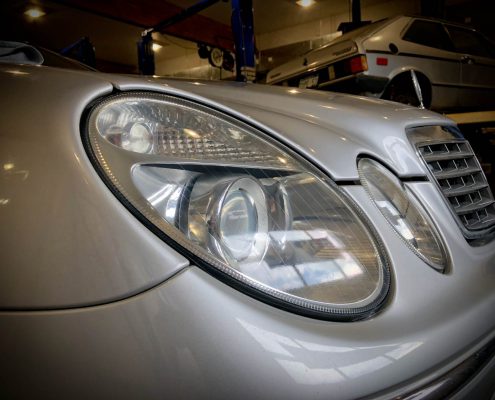 Lastly, we spray the headlights with a liquid acrylic that bonds directly to the acrylic headlight lenses. Having the same material on the lens allows the molecular structure to bond better than any other protective coating. This means that it will never come off, fade or discolor again. It's also UV fast, so UV will never break down again.
To make an appointment for your headlight restoration contact us at 425-254-0627 or email us. Meister Werks European & Import is located one block south from The Renton Landing in Renton, WA in the Seattle, WA area.
http://www.rentoncarrepair.com/wp-content/uploads/2016/11/MW-logo.png
0
0
Meister Werks
http://www.rentoncarrepair.com/wp-content/uploads/2016/11/MW-logo.png
Meister Werks
2018-06-05 18:17:40
2018-09-08 20:07:24
Headlight Restoration - Mercedes E320 CDI - W211