Renton DeLorean DMC-12 Repair
Dedicated to Quality, Dependability & Outstanding Customer Service
Contact Us Today for a Free Consultation
DeLorean Brief History
Article by Mark Trotta
The DeLorean DMC-12, more commonly known as the DeLorean, was the only model ever produced by the small company. Featuring gull-wing doors and a brushed stainless steel body, the internationally-designed, Irish-built sports car was originally manufactured from 1981 through 1982.
During the 1950's, John Z. Delorean was employed at the Packard Motor Company, working under Research and Development boss Forest McFarland. Several years later, he succeeded McFarland before moving on to Pontiac, where he oversaw the 1959 "wide-track" models, the front engine/rear transaxle Tempest, the OHC straight six, and others.
Delorean also helped developed the Pontiac GTO, Firebird, Grand Prix, as well as the Chevy Vega. He left General Motors in 1973 to form the DeLorean Motor Company (DMC).
Prototype Car
A mid-engine car was conceived in 1974, with help from Bill Collins. Due to production issues, it was later changed to rear-engine. Lotus of England supplied a steel X-member backbone chassis, with a body design by Giorgetto Giugiaro. The first prototype appeared in March of 1976.
DMC-12 Name
The model name DMC-12 came about from it's original projected price of $12,000. That was in 1978. By 1981, inflation, high interest rates, and a decline in the value of the dollar brought the retail price of the DeLorean up to $25,000.
DeLorean Car Production
After raising needed capital, production eventually ended up at Dunmurry, Northern Ireland, a few miles from Belfast. Because of its technical complexity, production costs were high. There was a fiberglass underbody to which non-structural brushed stainless steel panels were affixed.
Chassis
Based largely on the Lotus Esprit, the underbody featured four-wheel independent suspension, coil springs, and telescopic shock absorbers. The front suspension used double wishbones, and the rear suspension had a multi-link style.
The two-seat sports car weighed 2,840 pounds and rolled on a 94.8 inch wheelbase. Steering was by rack and pinion, with an overall steering ratio of 14.9:1.
The first DeLorean rolled off the production line on January 21, 1981. Several running changes were made, such as the hood, wheels and interior. Despite being produced in Northern Ireland, DMC-12s were primarily intended for the American market. All production models were left-hand drive, which limited the car's popularity in the United Kingdom.
All DeLorean cars left the factory uncovered by paint or clear coat, with the exception of three cars plated in 24-karat gold (a fourth car was reportedly gold-plated by it's owner). Many painted examples exist, but these were done after the cars left the factory.
Right-Hand Drive
To sell cars in the United Kingdom meant producing a right-hand drive version. The cost of building an additional model would have been too costly, so conversions were done to left-hand drive models after they left the factory. It is estimated that only 17 right-hand drive factory-authorized DeLoreans were produced.
Although usually found only on high-end exotic cars, gull-wing doors were not a new concept. In 1974 and 1975, they were prominently featured on the Bricklin sports car.
Interior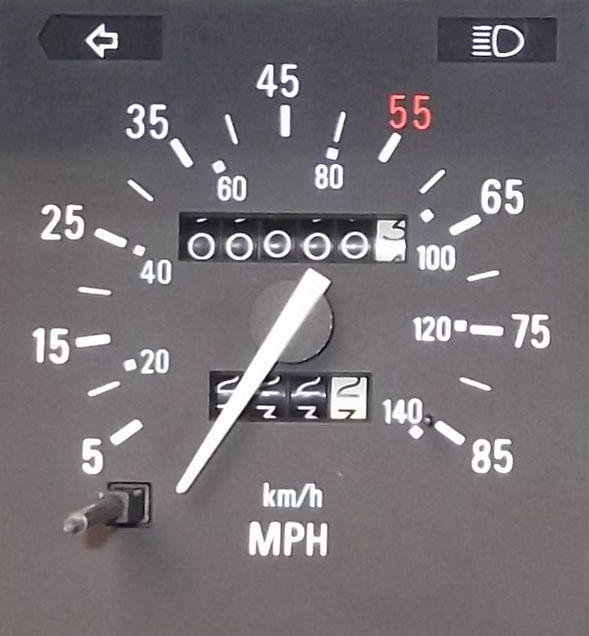 The interior of the Delorean featured leather seats and trim, air conditioning, and an AM/FM cassette stereo system. Power windows, locks and mirrors were standard, as was a tilt/telescopic steering wheel. Speedometers only went to 85 mph.
Sports cars are known for being cramped inside, but John DeLorean, being a tall man, designed his sports car to have plenty of room for him and those even taller. Headroom was 35-inches and legroom was 45-inches.
Powered by a 2.8 litre (174ci) V6 engine developed by PRV (Peugeot Renault Volvo), the Delorean was offered with either a 5-speed manual or five-speed automatic transmission.
Delorean Performance
Originally envisioned with a 200-horsepower output, emission controls and restrictions cut horsepower to 130-horsepower. With 0 to 60 mph times at 8.8 seconds, it wasn't particularly fast, and owners complained of rear-engine handling issues.
Delorean Scandal
In October of 1982, John DeLorean was arrested and charged with conspiring to smuggle illegal drugs into the United States. DeLorean was exonerated, but with all the publicity the trial garnered, irreparable damage was done both to him and the car bearing his name.
Manufactured in 1981 and 1982, approximately 8,500 to 9,000 original DMC-12s were produced. A large number of these original cars are still on the road today. There are several major owner's clubs worldwide.
Rebirth
In 1995, businessman Stephen Wynne purchased all remaining parts of the DeLorean car and set up shop in Houston, Texas. The company, called DMCH, is planning to assemble new models from the ground up using a combination of new, original and reproduction parts.
This is possible due to the passage of the Low Volume Vehicle Manufacturing Act, which allows small car manufacturers to construct up to 325 replica cars per year (subject to federal regulatory oversight).
Production of the new DeLorean was due to be launched in 2017, which didn't happen due in part to safety and emission regulations. However, the company's Vice President James Espey states that cars may be ready for sale by summer or fall of 2021.
---
Back To The Future Car
One of the top ten movie cars of all time is the Delorean DMC-12 featured in the 1985 film "Back to the Future". Eccentric Doc Brown, played by actor Christopher LLoyd, builds a time machine from a modified DeLorean which features a plutonium-powered "flux capacitor".
The movie won several awards, including the Saturn Award for Best Science Fiction Film, and an Academy Award for Best Sound Effects Editing. It also earned three additional Academy Award nominations.