Today we are starting the install on this freshly rebuilt 2004 Porsche 911 Carrera 4s Cabriolet 3.6L N52 engine. The engine was rebuilt from the bottom up including new rod bearings, rebuilt heads and IMS bearings. The install is expected to take a little over one day and should be rolling mid week sometime. At Meister Werks in Renton, WA, 1 block south of The Renton Landing on Park Ave N.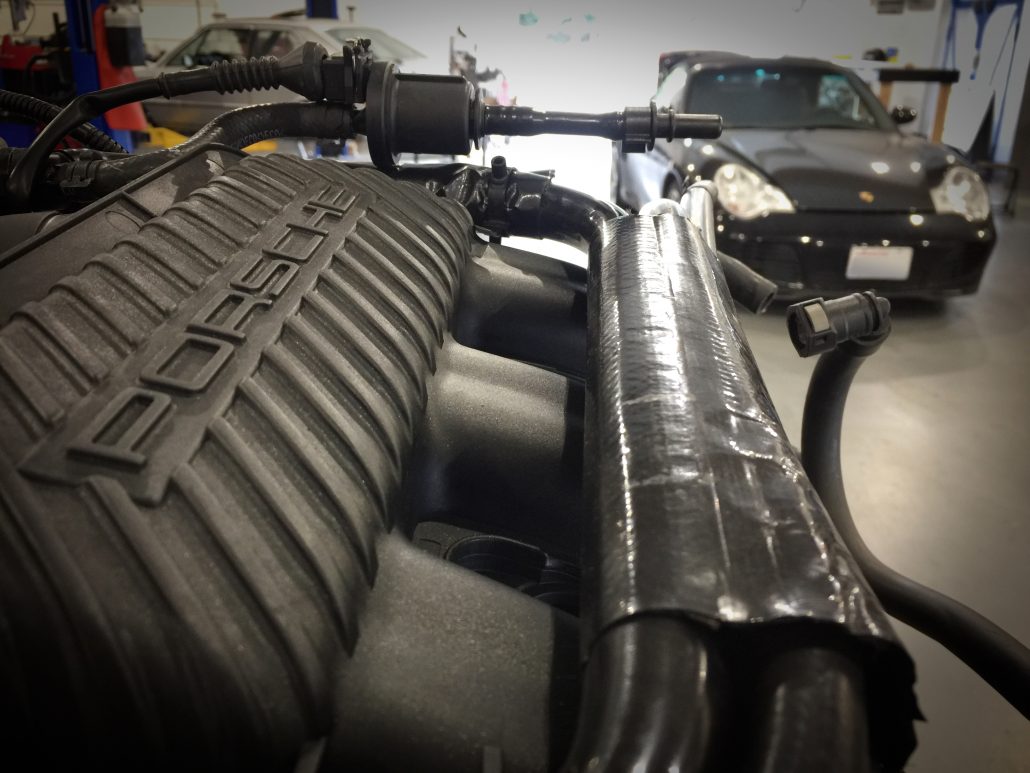 ---
The Porsche 996 is the internal designation for the Porsche 911 model manufactured with first model year 1998 and last 2004. It was replaced by the Type 997 in model year 2005.
The 996 had little in common with its predecessor, with the first new chassis platform since the original 911 and a new water-cooled engine. Technically, it was a major change, a complete breakaway from the original car other than overall layout.
Development was shared with its smaller brother, the roadster-only Boxster which appeared around the same time, including the front suspension, much of the interior, and the engine, all of which were enlarged for the 996. However the multi-link rear suspension, derived from the preceding 993, was different.
At its debut, the 996 featured the most significant change from the classic 911 series: a water-cooled engine replacing the previously air-cooled engine (a change that Porsche's parent, Volkswagen, would also make when it introduced the New Beetle a year later, in 1998). Progressively stringent emissions and noise regulations, environmental concerns, a higher expectation for refinement and a high-performance 4 valve per cylinder engine made the switch necessary. Other major changes include a completely new platform having a sleeker body with a more raked windshield, and re-designed interior.
Naturally Aspirated Carrera Evolution
The 996 Model year featured a 3.4L engine producing 296 bhp. The 2000 and 2001 model years received a slight increase in horsepower to 300 bhp while retaining the same figures for torque produced. In addition, Porsche made many changes to the 3.4-liter unit over its production lifespan, so the last of these 3.4L engines (made in 2001) have improved reliability.
The 2002+ cars received a 3.6L engine which provided an extra 15 bhp (11 kW) of power (taking output to 315 bhp or 320 PS) and an additional 15 lb·ft (20 N·m) of torque (increasing from 258 to 273 lb·ft). The inclusion of Variocam Plus (as opposed to Variocam on the earlier 996) improved power delivery through the rpm range. The headlights on the 996 Carrera also adopted the turbo headlights of the MK1 iteration. Seat belt pretensioners were added. In 2000, the Tiptronic transmission was modified to allow it to enter manual mode by clicking buttons on the steering wheel.
Updates also included a revised front bumper to decrease front end lift, and the addition of a glove box. The second generation 996 gained 25 kg (55 lb) in the facelift.
– Source: Wikipedia
---
http://www.rentoncarrepair.com/wp-content/uploads/2016/11/MW-logo.png
0
0
Meister Werks
http://www.rentoncarrepair.com/wp-content/uploads/2016/11/MW-logo.png
Meister Werks
2017-09-26 09:00:03
2017-09-26 00:53:53
Porsche 911 Carrera 4s Cabriolet – Engine Rebuild & Install